There is no more exciting time to travel to Cuba than now! With U.S. travel restrictions eased to 12 categories of legal travel, daily commercial flights (from numerous U.S. cities), and a tourism boom to catch Cuba "before it changes forever" you'll be able to catch the "real" Cuba now before commercialism takes over. But experiencing the "real" Cuba means you're going to, well, experience "real communism" (to a degree, at least, as things are always complicated when it comes to Cuba). One of the many questions U.S. (and international) travelers have is about WiFi: "will I be able to get WiFi access in Cuba?" The short answer is, yes, you will be able to get WiFi access in Cuba but it's complicated (it always is when it comes to Cuba).
Where can you get WiFi access in Cuba?
Cuba is a socialist/communist country (those words aren't normally used interchangeably) which means the government controls the country. WiFi (until recently) was only available through hotels and the hotels in Cuba, you guessed it, are owned by the government. Interestingly enough U.S. operated Starwood Hotels started operating a hotel in June, 2016 though discussing that is for another time.  Recently, however, the Cuban government has opened up WiFi hot spots around the country  making accessing WiFi in Cuba (somewhat) easier than before.  Therefore, as of this writing (things in Cuba are changing rapidly) you can get WiFi access in hotels or hot spots in select locations around the country.
Where are the WiFi hotspots in Cuba?
A list of current WiFi hotspots can be viewed on TripAdvisor but the number WiFi hotspots in Cuba are expanding quite quickly so it's best to check back often. For your reference the current locations Travendly recommends on their trips to Havana are listed below.  But, remember, you can also get WiFi access in hotels.
Non-Hotel WiFi Access in Havana
• Area of 23rd and N (Vedado)
• Park on linea and L (Vedado)
• Park on 13th and 14th (Vedado)
• Park of Estadio Latino Americano (Vedado)
• Park  Trillo and Fe del Valle (Central Havana)
• Park Coyula (Miramar)
• Park on 13th and 76th (Miramar)
• Park of Calabazar (Boyeros)
• Park on 51st and Punta Brava (La Lisa)
• Park on 51st and 76th (Miramar)
• El Paseo de la Villa Panamericana
• Park of Jose Marti (San Antonio de las Vegas)
• Park of Santa Amalia ( Arroyo Naranjo)
• Park of las Madres (Regla)
• Park of Jose Marti (San Miguel del Padron)
• Park on Hanoi and Centro Cultural (Alamar)
How to get WiFi Access in Cuba
Now you know where to find WiFi in Cuba but now you need to know how to actually access it. You can't just roll up to a WiFi location, turn your WiFi iPhone button on, search for the network, and connect. It's not that simple (remember you were warned about things being complicated in Cuba). In order to access WiFi in Cuba you need a WiFi card.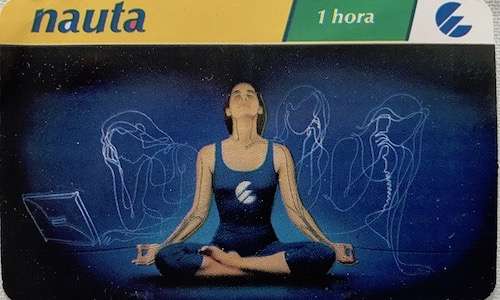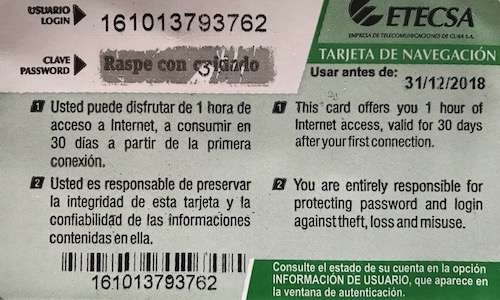 Where to Buy a WiFi Card
As of this writing one WiFi card is good for 1 hour of (non-continuous) WiFi access with retail cost of 2 CUC.  WiFi cards are available for purchase (you guessed it again) at hotels. Your first step is to approach the receptionist desk at a hotel and (hopefully) purchase a wifi card. "Hopefully" since there's always the chance a hotel is sold-out of WiFi cards as Cuban teenagers will purchase these cards in bulk from a hotel for 2 CUC then up-sell on the streets for 3 or 4 CUC (hello capitalism). The people who sell WiFi cards on the street usually do so in the non-hotel WiFi hotspots so if you go there (see list above) and ask around for a "Wee-fee tarjeta" you might be able to score one (at a marked up price). Not obtaining a WiFi card will only make things more complicated so let's assume your WiFi card purchase was successful.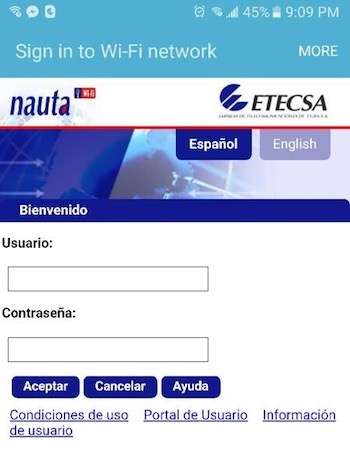 Logon to WiFi in Cuba
In order to logon to the ETECSA network follow these steps:
Turn WiFi on on your smartphone (yes, it's obvious, but still bares stating)
Join the ETECSA network
Wait for the login screen to pop-up (see above image on left/top)
Enter your login number (in 'usuario') and password (in 'contrasena')
Press 'aceptar'
If you see the screen on the bottom/right you've successfully logged in! Minimize this window and do your WiFi thang. If you don't see this screen turn off your WiFi and start over again at step (1).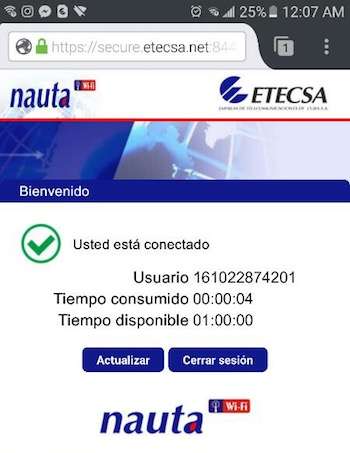 Logoff WiF in Cuba
To make sure you don't lose unused WiFi minutes it's best to logoff of your current WiFi session (otherwise you risk losing that precious WiFi time). To logoff your current WiFi session follow these steps (while you're still connected to WiFi):
Open a browser (ideally Google Chrome as it seems to work best)
Type http://1.1.1.1 in the URL
The above screen will pop-up.  Click 'cerrar sesion'.
Now you know where to get WiFi access in Cuba, where to buy a WiFi card, and how to logon and off of WiFi. Not bad! But one of the pleasures of visiting Cuba is actually experiencing "life without WiFi" so, perhaps, you won't need this guide after all.  Safe travels!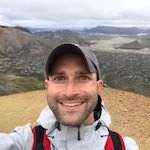 Jon Jaffe
While Jon lives in New York City he loves traveling the world, experiencing new cultures and finding those off the beaten path hikes. When not traveling he's most likely improving (his oft bad) fantasy baseball team