The Nordic nation of Iceland has a long and fascinating history – not least because of the way this dramatic topography was formed. Millions of years of volcanic activity has created a landscape of breathtaking beauty that's constantly evolving while attracting record numbers of tourists each year. Iceland is no longer one of Europe's best-kept secrets. Equally as intriguing are the people of this land and their largest city, Reykjavik. With a population of only 123,000, it isn't going to be like any capital city you've been to before.
Cost
Right, let's get the negative stuff out of the way first. Iceland – if you weren't already aware – is pricey. The country is rarely out of the top five most expensive countries on the planet, and this can often put people off when it comes to paying it a visit. Not getting much change out of 100 Euros for a round of drinks is enough to make anyone's wallet weep.
That being said, there are ways to save yourself a pretty penny while you're here – especially if you use cards instead of cash, cook your own food, shop around for good deals, look out for happy-hours and walk everywhere. Also, tipping is not expected and often included, so save those precious coins for your holiday.
When Should You Go?
The clue isn't necessarily in the name here and Iceland isn't as icy as you might think. Temperatures in the winter (September to April) will be drop to around the -3°C mark (26°F). However, in summer it will rarely push any higher than 13°C (56°F). While June-August is peak season, you'll get a better shot at seeing the northern lights in the winter.
The Aurora Borealis is a sight to behold and even possible to see over Reykjavik during the winter months. But don't forget about the famous midnight sun from May-August, where you'll experience up to 24-hours of daylight. If you're nocturnal – maybe visit in January.
Get a Reykjavík City Card
Simple and an absolute must: get yourself a Reykjavik city card. Save yourself a stack of cash with free entry to many museums and galleries, swimming pools and unlimited bus travel within the city center. There are loads of other discounts besides, including a free trip to Viðey island, making this card an essential purchase during your visit.
Language Barrier
There isn't one. While the Icelandic language might be one of the most difficult in the world to learn, it's lucky that most people here speak English – at least, under a certain age. It's actively taught in schools, so you're unlikely to ever run into real problems when it comes to a language barrier.
We would always encourage you to learn a few basics of the local lingo though – you'll definitely put a smile on someone's face. However, with names like Eyjafjallajökull and Seyðisfjörður, you might find it a bit of a mouthful.
Don't Miss the Hallgrimskirkja Church
It could be argued that Reykjavik and Iceland's most recognizable landmark isn't any of its stunning geological attractions, but rather this striking and iconic building in the capital. Designed to reflect the Icelandic landscape, the church dominates the city skyline from almost every location.
This modern Parish Church is well worth a visit inside too, where you'll discover loads more information, art exhibits and wonderful views from the top of the tower.
The Nightlife
Reykjavik is famous for it. The 101 district is where you'll find all the trendiest places, but while it might lean heavily towards the hipster, there's still a relaxed, welcoming and friendly vibe where you can make loads of new friends. Especially if you like a beer or two.
When you're done with a day of sightseeing and the sun is going down – Reykjavik is coming out to play. Many bars will stay open until 5 am over the weekend. After that – follow the locals or go to bed!
Art and Culture
Speaking of art, it just so happens that Reykjavik is teeming with it. From fresh new sounds in music to cutting edge film, breathtaking architecture, and fascinating museums; there's plenty here for you to get your cultural fix and then some.
The Harpa Concert Hall is a must-visit landmark (pictured above), but considering the size of the city, there appears to be a never-ending list of museums to visit – including the only one in the world dedicated to the penis. But if you're not a fan of such institutions – just enjoy the abundance of street art and graffiti instead.
Explore the Rest of Iceland
As charming, unique and more than a little strange as Reykjavik is, we would advise you to not linger too long. The country is so full of incredible natural sights that will take your breath away, it would be a shame to confine yourself just to the capital.
The stunning Blue Lagoon, whale watching off the coast, the Strokkur Geysir and a thrilling journey around the famous Golden Circle are just a few of the memorable sites and experiences you can enjoy on a visit to these volcanic shores. Reykjavik is just the tip of the Ice(berg)land.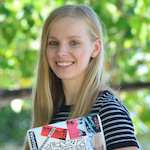 Agness Walewinder
Agness has been traveling since 2011, working as a digital nomad and online entrepreneur. Originally from Poland, she has a master's degree in New Media from Amsterdam University, studied English and Spanish for four years at the University of Wolverhampton, and has currently visited 65 countries and counting.