Exploring Machu Picchu is one of those once-in-a-lifetime moments. Failing to fill your daypack with the right supplies can make or break the experience on your trip to Peru. That's why we've pulled together this list of quintessential items to throw in your daypack for a solid and well-equipped Machu Picchu day hike.
1. Your Passport
Do not forget to pack your passport. You may think you're playing it safe by leaving it back in the hotel safe, but when it comes to visiting Machu Picchu you'll need to have it with you to enter, plus you can add a pretty memorable stamp to its pages. Just be sure that you bring the same passport you used to purchase your Machu Picchu tickets. Officials at the gate to Machu Picchu will be looking for a matching number between your passport and your ticket.
Travel Tip: If you happen to have renewed your passport within the span of time between ticket purchase and your visit to Machu Picchu, bring both your old and new passport with you to the gate.
2. Water Bottle
Water is always a good idea in the thin Andean air, especially when you'll be trekking up and down mountains, terraces, and Inca-laid stone steps all day. Though there is a snack bar that sells water just before the Machu Picchu entrance, it's best to stock up in Aguas Calientes where it's a lot cheaper.
Travel Tip: Plastic water bottles are not allowed in the ruins so you will need to transfer any and all water that you stock up on into a reusable bottle or Camelbak (1.5 to 3 liters should be sufficient).
3. Snacks
As with the no plastic water bottles rule, there's also a rule for no food within the ruins. If that's true then why are snacks on this list you may be asking. Rules aside, trekking your way along Machu Picchu's every trail will get your stomach rumbling eventually. It's best to have snacks available. Pack a bag of energy-rich snacks, maybe even a lunch, in your daypack, then check that bag of food at the gate just before entering the ruins. When you get hungry you exit, eat your snacks outside the gate, and then continue exploring.
Travel Tip: Just remember that you can only exit and re-enter once during your visit to Machu Picchu, so plan to time your exit for when you also need to use the bathroom, as that too is only possible outside of Machu Picchu's gates.
4. Layers
Whether your visit to Machu Picchu is during the morning shift (6am to 12pm) or the evening shift (12pm to 5pm), temperature and weather at Machu Picchu can vary by the hour. Usually by midday, it's warm enough to walk around in a t-shirt and shorts, while the morning and evening hours can be cool enough for a sweater or jacket. It's best to have something warm to throw on in your pack in the event that the temperature dips while you're still touring the ruins.
5. A Rain Jacket or Waterproof Poncho
While there is a rainy season and a dry season at Machu Picchu, always be prepared for some rain. Machu Picchu is located in the rainforest after all. Your chances of getting dumped on increase from November through March, while May to August tend to be on the drier side. Packing an extra t-shirt is also a good idea in case the rain seeps through your shirt before you have enough time to throw on the poncho.
6. Insect Repellant
The mosquitos at Machu Picchu can be a nuisance no matter what time of year you visit. You'll want to do what you can to prevent the bites for your Machu Picchu day hike. A good DEET bug spray should do the trick, but it's also smart to wear loose-fitting pants and sleeves for further protection.
Travel Tip: Locals swear by shampoo as their mosquito repellant of choice. Just rub it on your skin like a lotion and don't wash it off.
7. Sunglasses
The UV rays at 7,972 feet can be intense. Pack a good pair of sunglasses to protect your eyes from the damaging rays. This is especially important if you'll be visiting Machu Picchu during the dry season (May to November) when the sun shines strong most days, with little cloud cover.
8. Sun Protection
Cloud-free skies or cloud-filled, you'll need to pack the sun protection, be it a shade-giving hat or a tube of high factor sunscreen. As we mentioned, the UV rays at altitude are unforgiving. Additionally, you'll want to reapply religiously throughout the day.
Travel Tip: This is one of those items that you will have wished you brought from home. Though you can purchase sunscreen at most drugstores throughout Peru, it's illogically expensive and the selection is rather slim. Hence, sunscreen will come in handy beyond just the Machu Picchu day hike.
9. Camera or Smart Phone
Of course, you'll want to capture your once-in-a-lifetime visit to Machu Picchu, so triple check that your camera is in your daypack before making your way up the winding road to the citadel's gates. You'll be snapping away the entire time you're inside. It's just that picturesque!
10. Portable Charger
Your camera/phone will be no good if it dies on you mid-way. As you'll likely be taking photos every couple of steps, the chances of a dead battery are high. Be sure to pack one or a few portable chargers to save yourself from that dreadful moment when the battery falls to 0%.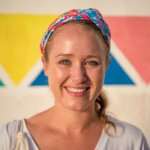 Amber Dunlap
Amber is a freelance travel writer currently calling Cartagena, Colombia home, originally from Washington D.C. Besides putting pen to paper in a cozy coffee shop, her favorite thing to do is purchase one-way tickets to South American destinations for the purpose of getting to know a city fully. So far, Arequipa, Cusco, and Cartagena have had her full attention while Buenos Aires, Rio de Janeiro, and Medellin are contenders for her next deep dive.