Planning a trip to Iceland, the land of Fire and Ice? Awesome – you're in for a truly remarkable experience in one of the most beautiful, unreal places on this earth! You'll undoubtedly bath in a natural hot spring, drive through (moss covered) lava fields, gaze upon tremendous waterfalls, see (and possibly hike) a glacier, watch a geyser erupt, and get sentimental with super friendly Icelandic horses. Perhaps you'll even get lucky with rare Icelandic wildlife and catch a seal lounging in a glacier lagoon or a puffin taking flight off a volcanic cliff.
While you aren't guaranteed to see a puffin you are guaranteed to experience Iceland's "lovely" weather, regardless of the seasonal timing of your trip. Not being prepared for Icelandic weather will, sadly, make those waterfalls, lava fields, horses and even puffins seem that much less enjoyable as it could physically alter your mental state. Rest assured you can get the most out of your Fire and Ice experience by preparing for all that mother (Icelandic) nature can throw your way by following this ultimate Iceland packing list.
Temperature
Iceland is, well, ice and snow, right? And therefore it's cold, right? Not exactly. Without going into the history behind the name of Iceland you should know that temperatures range from mid 40s to high 50s (even low 60s) in the summer and teens to 20s in the winter. For those living in Northeastern United States (i.e. Boston, New York, Philadelphia, Chicago, Washington D.C.) you'll be rather familiar with Iceland's winter (temperature wise) although you will find the summer "cooler". And those of you from Chicago (or NYCers walking around midtown Manhattan on a breezy, winter day) you'll also be prepared for Icelandic wind (read more below).
Beautiful view from Dyrholaey Island. Hope for the clear skies but prepare for the dark ones.
The Elements
It doesn't matter when you go to Iceland or where (more or less) you spend your time as a couple things are a certainty: there will be precipitation and wind! That can't be emphasized enough so here's it one more time: there will be precipitation and wind. If you visit Iceland in the summer there will be rain; if you go to Iceland in the winter there will be snow (or rain, thank you very much global warming). And, regardless of when you go, there will be wind. Hopefully (fingers crossed) there will be a ton of sun but hopefully there will not be lava (fire) – we can't forget all the elements!
Be Prepared
As with the certainty that comes with experiencing precipitation in Iceland comes the exact opposite uncertainty in predicting the frequency and duration of such. Ask any Icelander "who's the least popular person in Iceland?" and the unanimous answer is always "the weatherman". You might wake up in Reykjavik to torrential downpours only to have beautiful sunny skies 30 minutes later; you might be driving around Route 1 in the fall when suddenly it begins hailing only to turn to rain 15 minutes later, which, of course, ceases completely 5 minutes thereafter. If you're on a tour in Iceland and it begins raining, turn to your guide and say "oh no, it's raining!"; his/her response is always "give it 15 minutes – it's Iceland".
Let's not forget about the wind which mimics Icelandic cloud behavior. The wind, especially along the Southern Coast of Iceland, can be quite forceful and brutally unforgiving. If you're renting a car in Iceland the rental agent will undoubtably give you a quick lecture about holding the car door as you open it to prevent the wind from ripping it off its hinges. They aren't joking around! While your Icelandic day might start with zero wind (allowing you landscape photographers to capture stunning long exposure waterfall shots) by midday you might find yourself in 50mph wind (resulting in long exposure photos that look more like a Picasso rendering of a waterfall).
Ultimate Iceland Packing List
Now you know what the general temperature and weather conditions might be it's important to pack the right gear! You should pack light yet efficient, with gear that should be able to handle torrential downpours to bright, sunny skies. Seems difficult? Fortunately there's a simple solution: layers! If the weather is cold and nasty simply layer up; if you're hiking in 60 degree, sunny weather, just strip down to your base layer. This ultimate Iceland packing list is recommended for every traveler to Iceland regardless of activity level.
All Seasons
Waterproof shell jacket
Long sleeved wool base layer
Short sleeved wool base layer
Day backpack
Quick dry travel towel
Winter Add ons
Waterproof, insulated hiking shoes
Waterproof, insulated gloves
Down mid-layer jacket
Hat and scarf
Heavy wool based leggings
Heavy wool socks
Summer Add ons
Waterproof hiking shoes
Waterproof gloves
Light wool based leggings
Light wool socks
Lightly insulated (synthetic) mid-layer jacket
Where to Buy
There are countless outdoor and hiking retailers who all produce amazing, top notch quality gear.  This (brief) list of retailers is a good place to get started.
Clothing
Footwear
Enjoy your Iceland trip!  Be sure to send us your glacier climbing mountain picture (like the one below) with all your neat gear from this ultimate Iceland packing list!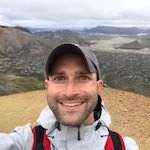 Jon Jaffe
While Jon lives in New York City he loves traveling the world, experiencing new cultures and finding those off the beaten path hikes. When not traveling he's most likely improving (his oft bad) fantasy baseball team