Thailand is considered to be south-east Asia's culinary capital. You haven't "done south-east Asia" unless you have eaten street food in Bangkok and tried at least one traditional Thai dish. Known for its spicy food and abundance of seafood, Thailand is a fish lovers' paradise with most dishes flavored using fish sauce. Pork and chicken is a good fish substitute, but can you eat vegan or vegetarian in Thailand? Bangkok does have a few vegan-friendly restaurants but outside of the capital, it's not as easy as you think. However, let me give you an insider tip; look out for a red and yellow JAY sign which are simple and cheap buffet style restaurants for monks (looks like 17).
Jainism is the life and teachings of Mahavira, and Jay or Jeh is the intention to cleans the body and your Karma. They believe in non-suffering, and as many Jay restaurant owners are often vegan, you can eat anything sold here. Although Jain Monks are a minority, there are still Jain Monks all over Thailand, and restaurants need to cater to their very strict diet. Jay restaurants are also cheap after all, monks are not known for being wealthy.
Pad Thai (Stir-Fry Noodles)
Pad Thai is the country's national dish, and a must-try for any visitor. Probably the most famous street food, Pad Thai is noodles fried with egg served with fish or chicken, but vegetarians can order it with vegetables.
For an authentic traditional Pad Thai, head to the "Sunday Walking Market" at Thapae Gate which is a popular Night Market for locals. Street vendors cook this delicious Thai dish fresh in a large wok, so you can see which ingredients are added.
Thai Curry
There are a few different Thai curries to try, and the type of chill will dictate the color and level of spicy heat. Thai Green curry is considered to be the hottest and is made with a green chili paste. Red Thai Curry uses red chillies and is less spicy, and Thai Yellow Curry is the mildest. All other ingredients remain the same namely coconut milk, ginger and lemongrass which is then served with rice.
The best way to enjoy a Thai Curry is at a Thai Cooking Class where you make this yourself. Hailed as one of the best experiences you can have when visiting Thailand, you will start your lesson with a visit to a local market where you will learn more about Thai culture. An expert chef will then show you how to cook a Thai curry with your fresh ingredients purchased from the market. You can't get better than that!
Tempura Prawns – Thai Fried Coconut Shrimp
Prawns are added to almost every Thai dish from noodles to soups, so why not try something different? Nothing tastes better than deep-fried tempura prawns with the added flavor of coconut, and this dish can be enjoyed as an appetizer, sharing platter or your main meal, "enjoy" being the optimum word!
Tom Yum Soup
Tom Yum Soup is a hot and sour Thai Soup now popular all over the world. Tom is the boiling process, and yam refers to a spicy and sour Thai salad. Tom Yum Soup is known for the fragrant herbs and spices used in the broth and is traditionally served with shrimp or pork. Vegetarians can ask for the vegetable option which is equally delicious.
Mango Sticky-Rice
This classic heavenly, simple dessert is made with glutinous rice, fresh mango and coconut milk. Nothing more needs to be said – it's delicious so just try it!
SangSom "Thai Whisky"
SangSom is considered to be the national drink of Thailand. Brewed from sugarcane and aged for about three years in oak barrels, although Sangsom is a rum, locals refer to it as a whiskey. If you want to enjoy it the local way, add soda water and a dash of cola, however party-goes often pair SangSom with red bull.
Golden in color, sweet, mellow and rather Moorish, it's easy to see why tourists and locals alike love this tipple.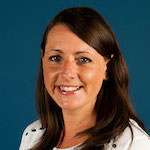 Angie Briggs
Angie is a Lonely Planet published, freelance travel writer galavanting around the world. Born in England, "home" is currently Cebu, Philippines, but who knows where it will be next month. Away from her laptop, you will find Angie helping to educate travellers how to use less plastic, scuba diving, and talking to stray cats.