Thailand: The land of smiles, beautiful beaches and exquisite temples. Ever since Leonardo DiCaprio's sultry millennial movie "The Beach" catapulted Thailand into fame, it's become a well-trodden path. For people seeking a unique experience in Thailand, would interviewing a monk fall under this category?
Buddhist Monks are an enigma. What is their story behind the iconic burnt orange robe? What led them here? What thoughts lay beyond the silence? How do they know Simon Cowell from Britain/America's Got Talent?
Monk Chat gives you an opportunity to ask these questions yourself.
Why Monk Chats in Thailand are important
You may feel chatting with a monk is a one-sided arrangement, but it isn't. By participating in an informal conversation, you are sharing valuable information about a life they do not lead. You are educating them, teaching them English. Monk Chats help their social skills, a valuable requirement if they have ambitions to become a Senior Monk. Yes Monks have ambitions, just like everyone else.
A monk's purpose in life is to learn, practice and share. Sharing is an important value taught in Buddhism.
This is why the monk chats are so important. It's not just for you to find out more about monks, it's so you can learn from one another.
Prepared questions … or go with the flow?
When faced with the opportunity to ask a Monk questions, should you wing-it, or go prepared? Do you feel you could engage in conversation for an hour with someone who lives a world away from the one you lead? Would there be periods of awkward silence?
The beauty of Monk Chat is you can literally ask them anything, and they will answer you honestly to the best of their ability or knowledge. Would it surprise you to learn that anyone can become a Buddhist Monk? Men of any age, with or without tattoos, married, single, Christian, Muslim or Hindu – any man can spend time as a Monk. I'm sure this information will produce its own questions.
Buddhism believes everyone has the right to Nirvana. We are all entitled to gain happiness.
Wat Suan Dok Temple – A Monk Chat Location
When you arrive for Monk Chat, you immediately notice they are working Temples. Buddhists wander around going about their daily routine, whatever that may be … well there's a question you can ask "what is a Monk's daily routine?"
If you visit Wat Suan Dok, this Temple plays a very important role to Buddhism. Built around 1370 by King Kue Na, Wat Suan Dok houses several structures of historical significance. This Temple features heavily in the legend which founded the famous Doi Suthep, although it has far less visitors and isn't considered to be as important.
There is an interesting story behind the gold Chedi at Wat Suan Dok, which looms 48 metres high. A wandering monk carrying a piece of Buddha's shoulder bone arrived here, and the relic split into two. The chedi was built to enshrine the relic. The King placed the other half of Buddha's shoulder bone onto a sacred white elephant. From this Temple, the elephant walked to Doi Suthep mountain and died. The chedi at Wat Pra Doi Suthep was built to house the other half of the Buddha's relic.
How to participate in Monk Chat in Thailand
Anyone can attend Monk Chat in Thailand. There are a few locations around Chiang Mai:
Wan Suan Dok Monday to Friday  5pm – 7pm
Doi Suthep Temple – Daily 1pm – 3pm
Wat Chedi Luang – Daily 9am – 6pm
Wat Umong – Monday, Wednesday, Friday 5.30pm – 7.30pm
MCU Buddhist University, Chiang Mai Campus – Monday, Wednesday, Friday 5pm – 7.30pm
Be respectful, cover your knees and shoulders. If you are female, do not hold out your hand to greet them. Monks are not allowed to have any physical contact with females.
If you take a list of questions, you may not have a chance to ask them all. Some younger Monks are shy, but give an older Senior Monk a platform to speak, and they are happy to share their thoughts. A conversation may digress and take many different directions. You may go off topic, as if you were chatting with someone you had met on the beach in Koh Samui.
Make the most of this opportunity, you could learn so much from a Monk Chat in Thailand. You may leave feeling like you have found a new friend. This may sound silly, but interviewing a monk is warm and humbling. What a wonderful experience to have when visiting Thailand.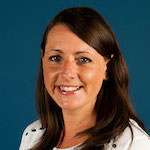 Angie Briggs
Angie is a Lonely Planet published, freelance travel writer galavanting around the world. Born in England, "home" is currently Cebu, Philippines, but who knows where it will be next month. Away from her laptop, you will find Angie helping to educate travellers how to use less plastic, scuba diving, and talking to stray cats.