Greece. The cradle of civilization. Myths and legends on an epic scale. Ancient teachings and writings that have stood the test of time for thousands of years. Gods and monsters, war and peace, heroes and villains, lovers and fighters. And at the heart of it all – Athens. The ancient capital where history is in the very air, reaching back over 3000 years. The birthplace of modern thought, and as you might expect – quite the tourist destination.
And yet, it's all rather familiar. We know of the stunning Acropolis, multiple museums, the temple of Zeus and dozens of other historic sights. Of course, they're all well worth a visit in their own right, but what of the hidden gems of the city? What have you never heard of in Athens? This article will take you through some of the alternative sights this culturally rich city has to offer.
Pittaki Street
A few years ago, locals and tourists alike would have balked at a suggestion to visit this street in the center of Athens. In lieu of a better word, it was something of a dump. But when volunteers and art collectives got their hands on it, it had a facelift.
Now bringing tourists back to the region, this once dodgy, seedy alleyway has been given a new lease of life with hundreds of recycled lamps hanging from above. It's a charming (dare we say, romantic) canopy and makes for a wonderful, alternative stroll in the city.
Open-Air Cinemas
A popular pastime for many Athenians is to take full advantage of Greece's incredible climate. Open-air cinemas pop up when the weather is grand – which is pretty much all the time – but usually lasting from April to October.  There are several such cinemas located all over the capital – just check local listings during the season for an alternative and memorable evening out.
Monastiraki Flea Market
As an alternative for browsing the usual high street stores, why not check out this intriguing flea market instead? Monastiraki is a district known for being a shopper's paradise, but every Sunday the stores close and this Athens delight springs up.
Selling almost everything you can possibly think of, you're sure to find an unusual or unique souvenir as you peruse everything from paintings to coins to collectibles. Get there early to grab a bargain.
Street Dancing
It takes two to tango, so grab yourself a partner and head along to Ermou, near Pireos Street on a Monday evening. You'll know you're getting close when you hear the music. It's here that locals and tourists alike dance their cares away late into the evening – and beyond.  It began in the wake of the country's economic downturn as a way to cheer people up, and it has certainly done that. Beginners and experts are more than welcome from 10 PM until the small hours. Ladies need to wait to be asked onto the floor – but there will be no shortage of offers here.
Graffiti Tours
It's no secret that Athens isn't the cleanest city in the world and some people can be put off by certain neighborhoods and streets. But it is possible to embrace the subculture here – because the city boasts some incredible graffiti and street art.
Exarchia and Plaka are two areas you need to be heading to, there to take in some quite brilliant work by local and international artists at every turn. Beautiful stuff if you like thinking outside the box. Create your own graffiti tour or sign up for an established one.
The World's Sharpest Sculpture
We're not sure if it really is – but it certainly looks it. Greek sculptor Costas Varotsos created this striking and controversial work called Dromeas. It's also known as The Runner, and it's a monument to a city famous for its marathons.
It's constructed of hundreds of shards of glass, which gives the impression that it is indeed running. Locals are in two minds about it though, concerned that it will cause someone harm. Check it out and judge for yourself.
The Digital Museum
It would be amiss of us if we didn't include at least one attraction with its roots in ancient history. The Digital Museum is a fascinating little place that is dedicated to the life and work of Plato, yet bringing him right up to date. It's actually located close to the philosopher's original academy, which he built back in 328 BCE. With interactive exhibits, videos, maps, and other curiosities, it has endeavored to become the first museum of philosophy in Greece. It's free to enter too – Plato would have liked that.
Ancient Meets Modern
A bundle of awesome, alternative attractions you can visit in Athens, with barely a mention of the Parthenon. Although it's endured its share of hardship in recent years, the Greek capital refuses to lie down. You should pay it a visit sometime soon.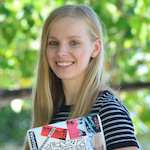 Agness Walewinder
Agness has been traveling since 2011, working as a digital nomad and online entrepreneur. Originally from Poland, she has a master's degree in New Media from Amsterdam University, studied English and Spanish for four years at the University of Wolverhampton, and has currently visited 65 countries and counting.