When thinking of Thailand, images of serene beaches or bustling city skylines may come to mind. While these are some of the vibrant landscapes that make up the country, there is another area of Thailand that needs to be added to your bucket list – the city and surrounding area of Chiang Mai. Nestled in the northern and mountainous region of Thailand, Chiang Mai offers some of the best excursions suiting all types of travelers.
From adventurers, history buffs, to animal lovers, there's something to explore for everyone. Some of the best day trips from Chiang Mai, can be located only minutes away from the city center or several hours by car. The northern mountains and jungles of Thailand can be considered some of the most beautiful pieces of scenery located throughout all of Southeast Asia. To experience these sites and learn of the best excursions in Chiang Mai, read on as we break down eight of our favorites.
1. Mae Hong Son Villages
Tucked away in the mountainous region bordering Myanmar, the Mae Hong Son Village, is known and constantly ranked as one of the best day trips from Chiang Mai. Made up the local tribes: Karen, Lahu, Lau, and Lisu people, it's close proximity to the border gives the village a strong Burmese presence. With the external influences, visitors can experience many of the different customs and cultures of the natives, this includes the well-known long neck's of the local women.
Seen as a sign of beauty, women (starting at a very young age) place large gold rings around their necks and continuously add rings as they age. Note: if visiting, it's customary to purchase something from their locally made shops, as commerce is their main source of income.
2. Bua Thong
Located over thirty miles from the city center, Bua Thong is recognized as one of the best day trips from Chiang Mai. Interested in climbing up or down some of Thailand's famous waterfalls? Then you may want to check out Bua Thong, otherwise known as the 'sticky waterfalls' to tourist and locals alike.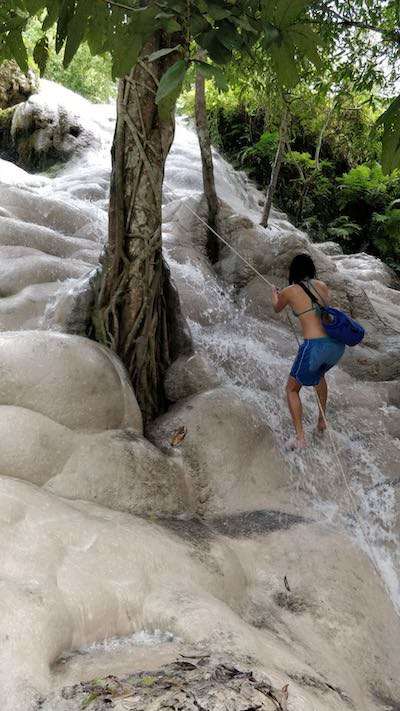 Despite the nickname, the gravel on the fall's rocks are neither sticky nor slimy, but the gravel's surface is surprisingly gripping for being layered under flowing water. The phenomena of the natural characteristics, in itself, makes it a prime attraction of things to do in Chiang Mai.
3. Mae Wang Bamboo Rafting
If surfing down level one rapids in the midst of the Thai jungle (on a bamboo raft we might add) sounds like a must-do, then visiting Mae Wang River should be top of your sight-seeing list. Listed as one of the best things to do in Chiang Mai, a local guide brings you (as well as two additional riders) aboard a sturdy bamboo raft and glides you down the Mae Wang.
As you explore the inner jungles of Northern Thailand, you may stumble upon some Asian elephants bathing beside you.
4. Zip Lining Through the Jungle
Not up for venturing through the jungle via river raft? Instead, try exploring from (up to) hundreds of feet in the air via a steel zip line. As you venture from tree top to tree top, notice the local landscape and take in the surroundings below (although, we may admit – it may take a few lines before getting the hang of it).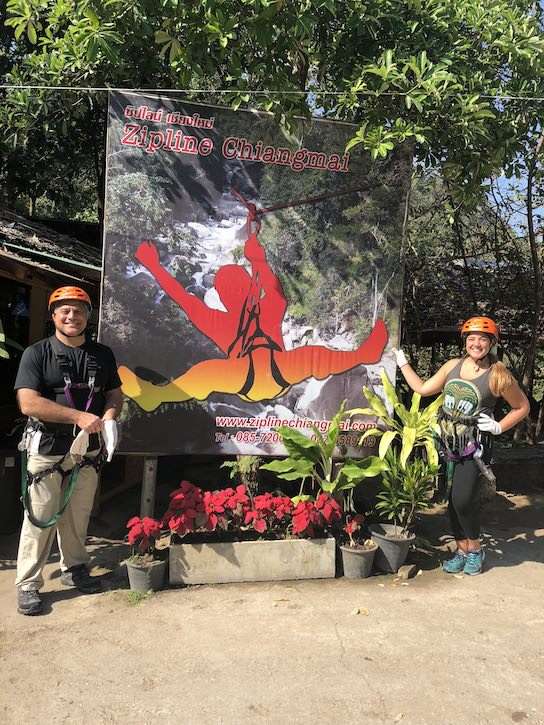 Given it's a popular tourist activity, and what makes it one of the best excursions in Chiang Mai, is the variety of options. There's many terrains to choose from when zip-lining through in the northern region (whether it's over the Mae Sa Valley or Mae Hong Son).
5. Elephant Jungle Sanctuary
Notably known as the most popular elephant sanctuary in the region (and listed as one of the top things to do in Chiang Mai), the Elephant Jungle Sanctuary takes an extremely ethical and kind approach to caring for their animals. As these animals are undergoing rehabilitation (whether they've been saved from lumber yards, elephant riding parks and circus-like acts), their well designed program is a perfect way to get up close and personal with these creatures while still respecting their boundaries.
As it's highly ranked as one of the best day trips in Chiang Mai, we recommend signing up three to four months in advance (as it books quickly). However, if you're looking to see elephants in the region (and you've waited till the last minute to book), avoid the attractions that have you riding elephants. Not only is it painful to carry weight on their backs, 'breaking in' an elephant for riders causes much internal turmoil that's mentally draining for the animal.
6. Temples of Chiang Rai
Showcasing bright and bold colors (as well as detailed design), are the numerous temples making up the region of Chiang Rai. No visit to Northern Thailand is complete without temple hopping, so why not explore the most notable structures on one of the many best day trips from Chiang Mai heading toward Chiang Rai.
While the city of Chiang Rai is located over three hours away from the temples, many local tours do a phenomenal job at stopping through hot spots to break up the drive. The three must-see temples to explore when visiting Chiang Rai include: the blue temple, white temple, and black temple.
7. The Golden Triangle
Ever visited three places at once? While seemingly impossible, it's not! By taking a visit up to The Golden Triangle (known as the Mekong Delta), you'll take a boat ride through the river that connects the three countries together: Myanmar, Thailand, and Laos. What makes this one of the best excursions in Chiang Mai, is along with taking in the beauty of the area, you're also learning the delta's history.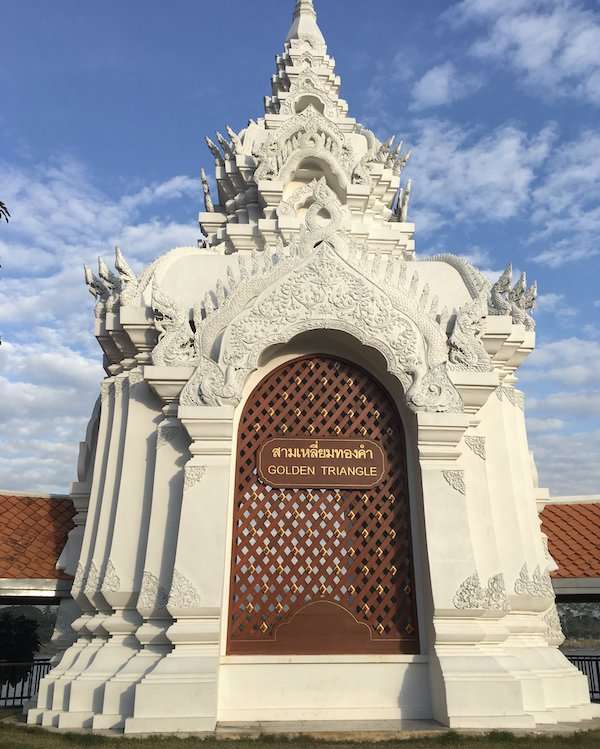 Having a troublesome past, the Mekong Delta had a substantial part in the controversial opium-trade and has currently transformed to now be one of the countries top tourism destinations.
8. Doi Inthanon National Park
When looking at any postcard or iconic image from Northern Thailand, it's likely you'll be presented the temples and structures from Doi Inthanon National Park. Built atop the country's highest mountain, visitors can enjoy the park's many attractions, whether it's the grandiose temples or the breathtaking waterfalls.
There are several ways to organize a trip over to Doi Inthanon: signing up for a recognized tour, hiring a local driver, or (if you're in a group of six or more) organizing a red car from Chiang Mai city center to take you over to the park.
There's no shortage of exceptional things to do when visiting the city of Chiang Mai. While we suggest these as some of the best day trips from Chiang Mai, we also suggest spending a few days exploring the city – between the night markets, delicious restaurants, and thriving nightlife you won't be disappointed.
Elizabeth Blasi
Having ventured to 53 countries (and counting), Elizabeth's work can be seen in publications like: Fodors Travel, We Are Travel Girls, and YourTango (among others). Making it her life's goal to explore unique and desired destinations, she makes it a priority to share her findings with her readers.