In Cusco, every day of the week is a reason to celebrate. If the random fireworks displays day and night don't give it away, the seven-days-a-week open and packed bars and discos will. For Peru's 7th largest city and one that tends to revolve around one grand plaza at its center, there are a surprisingly overwhelming number of nightlife options to choose from.
A trip to Peru isn't complete without taking in some nightlife!  To help you navigate the scene, we've pulled together this list of the best bars, pubs, and discos Cusco City has to offer. A tip: Save the heavy drinking for once you've acclimated to 11,152 feet above sea level and hydrate often and copiously.
1. Mama Africa
Style: Nightclub
Located in the heart of Cusco in the Plaza de Armas, Mama Africa is perhaps one of the most popular nightclubs in the city. Step inside and sway to everything from salsa and samba to hip-hop and reggae beats spun by a live DJ. Get there between 8:30 and 11 p.m. and you can enjoy Mama Africa's happy hour specials.
2. Ukuku's Bar
Style: Live Music Venue
Ukuku's is a special spot. While Mama Africa is definitely catered to tourists, Ukuku's is a favorite of locals and travelers alike. On weekends, expect to find live music, including Andean folk music, and a crowded dance floor. Happy hour at this crowd favorite is from 8:30 to 10:30 p.m.
3. Chango
Style: Nightclub
Chango is where most people end the night in Cusco. Starting at around 1:30 a.m., the spacious underground nightclub fills to the brim. Go any earlier and you will entirely miss the allure of Chango. One of the major draws, besides the reliably good DJ, is the fact that it stays open and full long into the morning hours.
4. Loki Hostel
Style: Hostel Bar Turned Theme Party
With themed parties nearly every day of the week, happy hour three times a day, and a mouthwatering menu of food and drinks, Loki is far more than just a hostel. They've managed to put themselves on the Cusco nightlife map for their all-night parties and ridiculously cheap happy hour specials.
5. Museo del Pisco
Style: Upscale Bar
For live music and an impressive menu of pisco based cocktails, there's no better place to go than Museo del Pisco. Though a cozy space, they still manage to make room for the band from 9 to 11 p.m. It's a smart idea to arrive early to this particular spot if you hope to get a good seat before the music begins.
6. Republica del Pisco
Style: Upscale Bar
For something a little higher-end, yet still equally packed with locals and travelers, Republica del Pisco is a great option. Go for a fancy cocktail or to grab a delicious bite to eat before hitting the rest of the town. On the weekends, good luck getting a table. The promise of live music and an unparalleled atmosphere packs the bar's every seat (and they have plenty).
7. Limbus Restobar
Style: Low-key Bar with a View
The best view from a bar stool in Cusco has to be at Limbus Restobar. Nestled into the hills of Cusco, this bar and eatery faces out to the city with nothing but uninterrupted glass-paned views. It's a great spot to chill with a mojito or beer in hand and take in the twinkling lamp-lit hillsides. They also have a pretty stellar food menu, so dinner and drinks is definitely a possibility at this Cusco bar.
9. Cholos
Style: Craft Beer Pub
If craft beer is right up your alley, then be sure to squeeze in a night at Cholos where more than 20 local craft beers flow out of their rotating taps. This European tavern-like craft beer bar is tucked into a quiet corner of Cusco just a few minute's walk from the Plaza de Armas. They even have a grassy courtyard for some good ol' fashioned "backyard" drinking when there's no tables left inside.
10. Paddy's Irish Pub
Style: Irish Pub
Paddy's claim to fame is that it's the highest Irish-owned pub in the world. It's also a great place to go for a Guinness and a good chat with the always warm and welcoming staff and patrons if you happen to be traveling solo. It's a spot that tends to attract an eclectic mix of people from Cusco and around the world.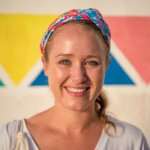 Amber Dunlap
Amber is a freelance travel writer currently calling Cartagena, Colombia home, originally from Washington D.C. Besides putting pen to paper in a cozy coffee shop, her favorite thing to do is purchase one-way tickets to South American destinations for the purpose of getting to know a city fully. So far, Arequipa, Cusco, and Cartagena have had her full attention while Buenos Aires, Rio de Janeiro, and Medellin are contenders for her next deep dive.