Thailand Group Tour Dates
Tue, December 26, 2023 – Fri, January 5, 2024
Sat, February 17, 2024 – Tue, February 27, 2024
Sat, April 6, 2024 – Tue, April 16, 2024
Fri, December 27, 2024 – Mon, January 6, 2025
Note: This Thailand group tour itinerary runs from November to April.  If you wish to visit Thailand from May to October please view our Thailand Summer trip.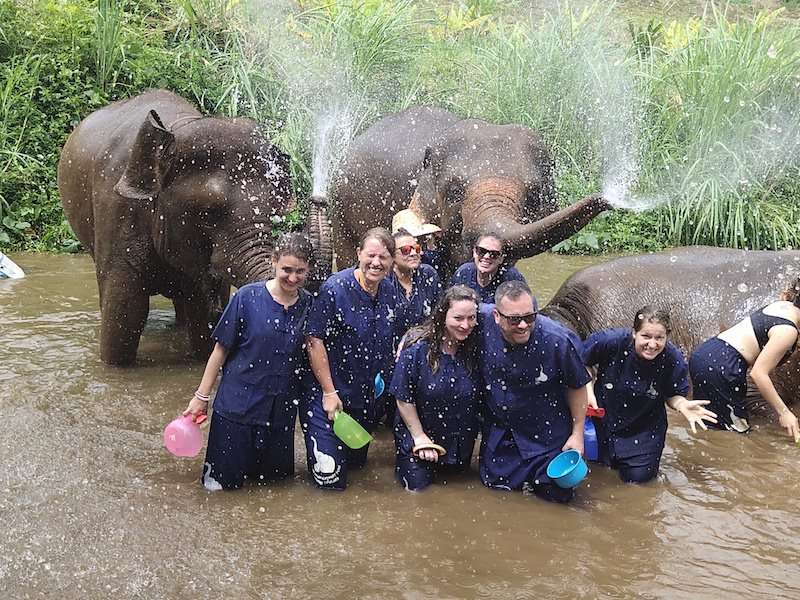 Bangkok
Chiang Mai
Elephant Sanctuary
Khao Sok National Park
Krabi Provence
Phi Phi Islands
Damnoen Saduak Floating Market
Boating around the famous Phi Phi Islands
Visiting the magnificent Buddha temples of Bangkok and Chiang Mai
Chatting with Monks in training
Learning about the culture and history of Thailand from an expert local guide
Long boating through stunning limestone rocks in Khao Sok National Park
Spending the night on a floating hotel in paradise
Getting your culinary game on in a cooking class
Bathing and walking elephants at an animal sanctuary
Boating through the canals of a floating market
Relaxing on pristine, white sand beaches
Indulging in delicious Thai cuisine
Enjoying (many) traditional Thai massages
Free time to choose your own adventure activity
Airfare to/from Thailand is not included in the price of our Thailand group tour. When purchasing airfare please do so as follows:
Arrival: Fly into Chiang Mai (airport code: CNX) by 4pm on the first day
Departure: Fly from Krabi (airport code: KBV) at anytime on the final day
Looking for another trip to Thailand? We also offer the following Thailand group tours:
Is This Thailand Tour Right for You?
There is a lot of travel on this Thailand trip: 3 cities, 2 internal flights and several day trips. Please be prepared to do a lot, see a lot and, as a result, travel a lot during this trip.
The weather in Thailand can be very hot and humid year round and there is a lot of walking and traveling on this trip. If you are prone to fatigue please consult your doctor about possible medications and/or health remedies.
If you are traveling from the U.S. for this trip (i.e. more than 20+ hours of flights) and are not a seasoned traveler we recommend arriving one or two days earlier to relax and acclimate before the trip begins.
Thai culture is very different from that of Western culture. Thai people are extremely respectful, kind, soft spoken and non-confrontational. Travelers should be open to learning about Thai culture while showing respect for a different culture.
Frequently Asked Questions
Thailand Group Tour Itinerary